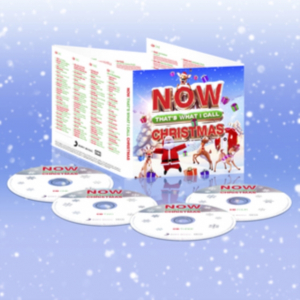 Various artists - NOW That's What I Call Christmas
Facts
Disc 1
1Last Christmas
2Step Into Christmas
3I Wish It Could Be Christmas Everyday
4Merry Xmas Everybody
5Wonderful Christmastime
6Mary's Boy Child/Oh My Lord
7Merry Christmas Everyone
8Christmas (Baby Please Come Home)
9Marshmallow World
10Rockin' Around the Christmas Tree
11Jingle Bell Rock
12Sleigh Ride
13Santa Claus Is Coming to Town
14One More Sleep
15Underneath the Tree
16It's the Most Wonderful Time of the Year
17It's Beginning to Look a Lot Like Christmas (With Mitchell Ayres & His Orchestra)
18Let It Snow! Let It Snow! Let It Snow!
19Have Yourself a Merry Little Christmas
20Merry Christmas Darling
21The Christmas Song (Merry Christmas to You)
22White Christmas
Disc 2
1Happy Xmas (War Is Over) [feat. The Plastic Ono Band & the Harlem Community Choir]
2Santa Claus Is Comin' to Town
3Merry Christmas
4Driving Home for Christmas
5Peace On Earth/The Little Drummer Boy
6I Believe in Father Christmas
7Christmas Time (Don't Let the Bells End)
8Stop the Cavalry
9Rockin' Around the Christmas Tree
10Little Saint Nick
11Pretty Paper
12Blue Christmas
13Lonely This Christmas
14Wombling Merry Christmas
15It's Gonna Be a Cold, Cold Christmas
16When a Child Is Born
17A Spaceman Came Travelling
18Ring Out, Solstice Bells
19In Dulce Jubilo
20Gaudete
21A Winter's Tale
22Mistletoe & Wine
Disc 3
1Fairytale of New York (Feat. Kirsty MacColl)
2Do They Know It's Christmas?
32000 Miles
4Christmas Wrapping
5Christmas Lights
6Come On Home for Christmas
7Home for Christmas
8River (It's Coming On Christmas)
9I Was Born On Christmas Day
10Christmas (Baby Please Come Home)
11Frosty the Snowman
12Rudolph the Red-nosed Reindeer
13Here Comes Santa Claus
14Ring Christmas Bells
15I'll Be Home for Christmas
16Santa Baby
17It's Christmas
18Saviours Day
19Someday at Christmas
20Do You Hear What I Hear?
21O Holy Night
22Walking in the Air
Disc 4
1The Power of Love
2Let It Go (From 'Frozen')
3Angels
42 Become 1
5I Have a Dream
6Father and Son
7Don't You Want Me
8Tragedy
| | |
| --- | --- |
| Article number: | CDNNNOW132 |
| Artist: | Various artists |
| Barcode: | 0196587512125 |
| Distributor: | Bengans LAS |
| Media: | CD |
| Release date: | 2022-10-28 |
| Units in packaging: | 4 |
| Year: | 2022 |