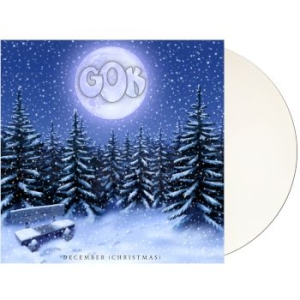 Gathering Of Kings - December (Christmas) Vit Vinyl
Facts
Vit vinyl. Limiterad i 500 ex.
December (Christmas) är en julversion av låten December som finns med på Gathering Of Kings senaste album Discovery.
"Vi tyckte redan vid demostadiet att December hade en riktigt julig vibe. När vi var i studion för att spela in trummor till "Discovery" fick vi idén om att släppa om låten med ett jultema den 1 december. Victor Olsson och Alexander Frisborg har skrivit om texten. Även en hel del annat är nytt i låten. Jonny Lindkvist sjunger även på denna version, Victor Olsson spelar gitarr, bas, keyboards och körar, Efraim Larsson spelar trummor och Theresia Svensson gästar på körsång. Nu jäklar ska hårdrockarna få sin Last Christmas!" säger bandets grundare Ron Dahlgren.
Låten är skriven av av Victor Olsson, och den nya texten har han skrivit tillsammans med Alexander Frisborg. Producerad, mixad och mastrad av Thomas "Plec" Johansson på The Panic Room Studio, Skövde. Exekutiva producenter är Ron Dahlgren, Nina Dahlgren och Victor Olsson. Omslaget har målats av Markus Vesper.Initiativtagare och ledare för Gathering Of Kings som liknats vid ett svenskt Phenomena eller Avantasia är Ron och Nina Dahlgren som till vardags driver Rocknytt.
Följande medlemmar: medverkar:
Jonny Lindkvist - sång
Victor Olsson - gitarr, bas, keyboards och körsång
Efraim Larsson - trummor
Gäst:
Theresia Svensson - körsång
| | |
| --- | --- |
| Article number: | RNRS004 |
| Artist: | Gathering Of Kings |
| Barcode: | 7320470252529 |
| Distributor: | Bengans KOX |
| Label: | RN Records |
| Media: | Vinylsingle |
| Release date: | 2020-12-11 |
| Units in packaging: | 1 |
| Year: | 2020 |